Transporting meals to school, work, or on family outings presents a challenge – how to keep food at proper temperatures for hours until lunchtime. Warm dishes getting cold and cold items warming up makes for an unappetizing and potentially unsafe meal. Food sitting at improper temperatures breeds harmful bacteria that cause food poisoning. The solution is packing meals and snacks in high-quality thermal insulated lunch bags.
Insulated bags utilize special materials to maintain contents at stable, safe temperatures for extended periods. This provides peace of mind that the tuna salad sandwich, fruit snacks, and yogurt in your child's lunch will stay chilled, while the thermos of soup stays steaming hot. Insulated bags are a must for anyone who needs to take food on the go.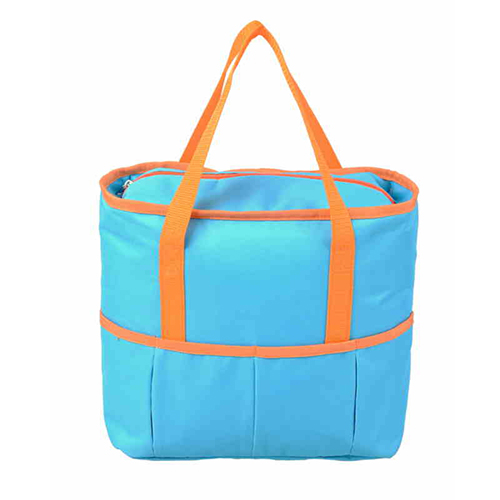 Why Insulated Lunch Bags Are Essential
Food safety – Insulated bags keep perishable foods like meats, dairy, eggs, and leftovers out of the 40-140°F "danger zone" where bacteria multiply quickly. This prevents spoiled or contaminated food from causing illness.
Consistent temperatures – Food tastes best and maintains texture at intended serving temperatures. Insulated bags stop sandwiches and salads from wilting and beverages from getting lukewarm.
Convenience – Not needing refrigeration or reheating means wide-ranging use – office, school, travel, picnics, sports events, etc. No need to hassle with microwaves or ice packs.
Environmental benefits – Insulated bags mean less need for disposable ice packs or foil wrappers. Reusable bags reduce landfill waste.
Customization – Larger insulated bags allow packing complete meals, while slimmer ones make snacks easy to carry. Sections and compartments keep items organized.
Features to Look For in Insulated Lunch Bags
Waterproof lining – Prevents leaks from spills, condensation, or melting ice packs. Keeps bag interior clean.
PVC, vinyl, nylon exterior – Durable, easy-to-clean materials resist stains, moisture, and abrasions.
Thermoforming insulation – Inner layer of foil or polyethylene foam holds in warmth or cold. Ethylene vinyl acetate (EVA) is a common thermoforming material.
Double zippers – Ensure complete closure and sealing of bag contents. Prevent spills or temperature exchanges.
Reinforced seams – Sturdy stitching prevents tear at stress points and help insulation remain intact.
Front pocket – Handy for napkins, utensils, seasoning packets. Allows accessing items without opening main compartment.
Food containers – Matching plastic food containers keep individual items separated and make packing organized.
Removable shoulder strap – Allows easy carrying during active commutes or days. Keeps hands free.
Carrying handles – Dual top handles provide options for grabbing bag. Sturdy handles enable heavy loads.
Lunch box shape – Makes bags easy to pack and access. Square and rectangular shapes have spacious interiors.
ID window – Helps identify bag among others at school, office, etc. Customize with name for personal flair.
Collapse flat – Bags that fold down slim allow efficient storage in desk, locker, or pantry when not in use.
Popular Insulated Lunch Bag Styles
Traditional lunch box – Durable plastic box construction with latch or zipper closure. Reminiscent of school days but with better insulation.
messenger bag – Shoulder strap makes hands-free carrying convenient. More elegant looking for the office.
Backpack – Distributes weight across both shoulders for strained back comfort. Frees hands completely.
Neoprene sleeve – Stretchy, wipeable material conforms around containers. Keeps items bundled.
Lunch tote/bag – Soft insulated carriers look like cloth purses or totes. Variety of stylish patterns and colors.
Kid-friendly – Disney, superhero, princess motifs make boring lunchtime more fun. Mesh pockets provide organization.
Thermal lunch jars – Insulated screw-top jars stand upright and provide divided storage for salads, snacks, etc.
Bento box – Asian-style divided containers keep ingredients separated in single-serving portions.
The right lunch bag thermal insulated helps ensure healthy, appetizing meals anywhere the day takes you. With so many stylish, functional options available, there's a perfect design for every taste – from superheroes to classic quilted patterns. Be sure to get one made from food-safe materials that will hold up through daily use. Invest in quality insulation that provides several hours of temperature retention or cooling. An insulated lunch bag makes mealtimes simple and safe.