Cooling bags are also known as insulated bags,or thermal bags.As you can imagine from the name,cooler bags can keep stuff in them at a cool temperature—-usually food and drinks.
In these hot summer days, you need fans and air conditioners, and your food needs its own "air-conditioned room" more desperately. A cooling bag not only protects your food from damage, it also protects it from spoiling.A water proof cooling bag is even more ideal,as they won't get soaked or waterlogged,your food are truly safe in them.
How do waterproof cooler bags work?
The function of the cooling bag is mainly from its special inner materials. The working principle of the cooling bag is mainly to use the thermal insulation material to keep the temperature inside the bag stable. Common insulation materials include foamed plastic, bubble wrap, wood chips and so on. These materials can form a heat-insulating layer to prevent the external temperature from affecting the temperature inside the bag, so as to achieve the effect of heat preservation.
The role of waterproof comes from the outer layer of the package material. Waterproof fabric is a new type of textile fabrics, it's composited by the polymer waterproof breathable material plus fabric composite fabric.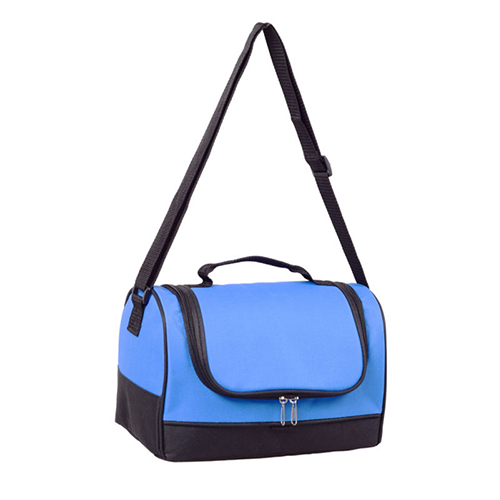 Application of waterproof cooling bags
The uses of waterproof cooling bags are now very wide, and they have a crucial place in both domestic and commercial fields.
People need waterproof cooling bags for camping and picnics,or just for bring food ti school and work in their daily travels, and takeaway services in the catering industry are inseparable from waterproof cooling bags. The delivery of iced drinks, pastries,fresh food,etc. must be protected by waterproof cooling bags.
If you have observed the takeout delivery people on the street now, you will notice that they may no longer be carrying an ordinary box, but a waterproof cooling bag, and waterproof cooling bags can be used in all seasons, regardless of the temperature,because they can not only keep cool,but also keep food fresh.
The latest developments in waterproof cooling bags
Multi-function
Just like other products in various industries, in order to meet different needs, waterproof cooling bags currently have many different products. Not only do they differ in size and shape, but their internal structures are also becoming more and more subdivided. Some waterproof cooling bags are completely open and undivided inside, which are suitable for the delivery of large items of food, while some cooling bags are already "multifunctional" and have many areas inside, some large and some small, for conveniently deliver a variety of foods at once.
Appearance
When people's basic needs are met, the pursuit of added value arises. Nowadays, the appearance of waterproof cold storage bags is often no longer the most traditional tin foil color, but comes in various colors or patterns, and the designs of the bag straps are also diverse.
Many companies will also customize their own waterproof cooler bags, because in this era, people receive too much information every day, so companies must seize every opportunity to attract consumers' attention.They will print their brand logo very conspicuously on the waterproof cold storage bag, and the publicity is also completed during the delivery process.
Amazing-action,a reliable manufacturer from China
We are one of the best waterproof cooling bags manufacturer in China.We have many years of knowledge and experience in waterproofing materials and insulation materials, and have regarded customer satisfaction as our only pursuit for many years.
In terms of materials, we choose the ones with the best performance, and in terms of appearance, we actively adapt to the times and create more and more different waterproof cooler bags.
For home use, waterproof cooling bags should be strong and durable, and for delivery use, waterproof cooling bags are in constant demand. Therefore, it is important to choose a good manufacturer.
You are welcome to contact us to express your needs or seek our advice!